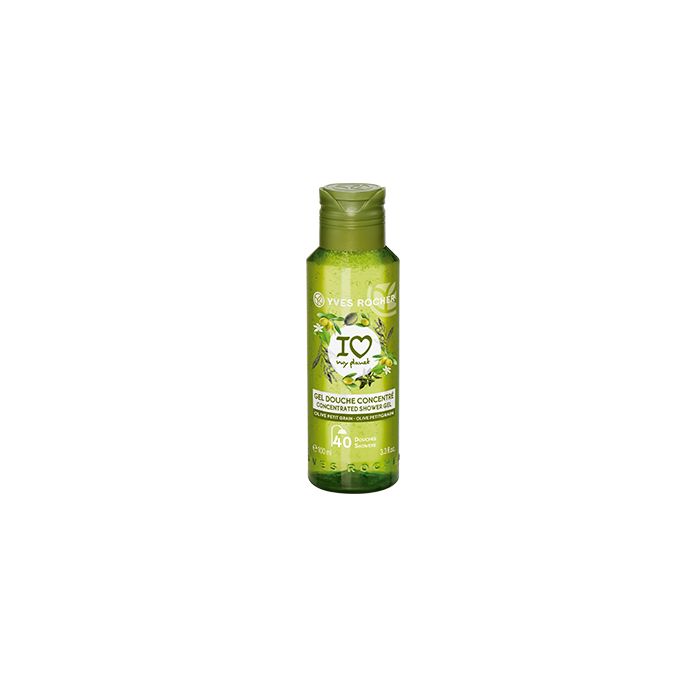 The 1st Concentrated shower gel* that preserves your pleasure and helps in respecting the planet.*At Yves Rocher
The 100ml Concentrated shower gel that gives you the same number of showers as the classic 400ml shower gel.
Olive Petitgrain: Exp Jan 2021
Make the most of a voluptuous and sensual moment in the shower while helping to respect the planet. Concentrated innovation, the new Concentrated shower gel provides as many showers in its small size, as the classic 400ml shower gel.
Your skin is gently cleansed and delicately perfumed. This formula contains more than 97% of ingredients from natural origin- Formula tested under dermatological supervision- neutral pH for the skin- Preservative free, paraben free *in the perfume.
RESPECT FOR OUR PLANET:
- 50% less plastic than the 400ml Shower gel packaging
- 50% less greenhouse gases than the 400ml Shower Gel packaging
- Recyclable bottle containing recycled plastic
- Easily biodegradable formula
- Ethoxylate free
How To Use
Its small, practical size that you can take on a trip or when you do sport..it can follow you anywhere. The bottle has a clever, new valve lid. Press and release the bottle to control the dosage and easily obtain enough formula for a shower.
With only one dose of formula, its fluid and enveloping texture creates a delicate and abundant foam that gently cleanses the skin. The promise of a really sensorial and perfumed shower.
YVES ROCHER
Yves Rocher is a worldwide cosmetics and beauty brand, founded in 1959 by the French entrepreneur Yves Rocher in La Gacilly. Yves Rocher invented a new form of beauty, with the highest respect for women and nature. It is the only global cosmetic brand to control the entire life cycle of its products: from the plant to the skin of its 30 million clients. This specificity allows Yves Rocher brand to lower enviromental impact and offer every woman quality products at an accessible price.