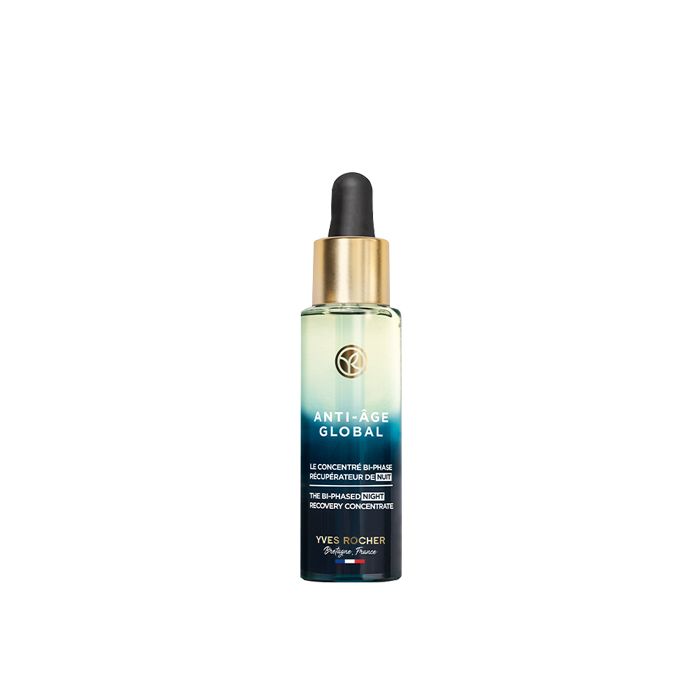 Yves Rocher Night Serum Recovery Concentrate 30 ml
YVES ROCHER
The Bi-Phased Night Recovery Concentrate
2x more concentrated in Botanical Bud Nectar*
The Bi-Phased Night Recovery Concentrate formula combines a serum, twice as concentrated* and precious botanical oils, including Jojoba oil known for its repairing properties.
AQUA/WATER/EAUCOCO-CAPRYLATE/CAPRATEGLYCERINSIMMONDSIA CHINENSIS (JOJOBA) SEED OILSQUALANEVITIS VINIFERA (GRAPE) SEED OILANTHEMIS NOBILIS FLOWER WATERPENTYLENE GLYCOLPROPYLENE GLYCOL.SODIUM CHLORIDEAPHLOIA THEIFORMIS LEAF EXTRACTBORAGO OFFICINALIS SEED OILCAMELINA SATIVA SEED OILPARFUM/FRAGRANCEINOSITOLHYDROXYACETOPHENONEPYRUS MALUS (APPLE) FRUIT EXTRACTSODIUM HYALURONATESYRINGA VULGARIS (LILAC) EXTRACT1,2-HEXANEDIOLCAPRYLYL GLYCOLNIACINAMIDETOCOPHERYL ACETATECAPRYLYL/CAPRYL GLUCOSIDESODIUM HYDROXIDELINALOOLGERANIOLCITRIC ACIDPOTASSIUM SORBATEXANTHAN GUMSODIUM BENZOATE
How To Use
Delicately apply its nourishing silky texture by massaging before your night skin care, on face and neck, following the lines from bottom to top, from the inside to the outside.
YVES ROCHER
Yves Rocher is a worldwide cosmetics and beauty brand, founded in 1959 by the French entrepreneur Yves Rocher in La Gacilly. Yves Rocher invented a new form of beauty, with the highest respect for women and nature. It is the only global cosmetic brand to control the entire life cycle of its products: from the plant to the skin of its 30 million clients. This specificity allows Yves Rocher brand to lower enviromental impact and offer every woman quality products at an accessible price.