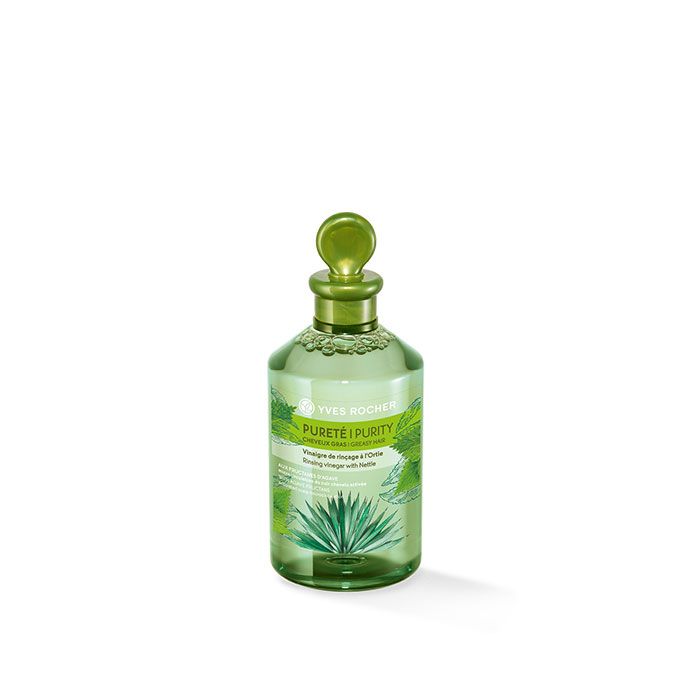 Rinses and removes the all the residue that weighs hair down
Once free of impurities, the hair is thoroughly cleaned and is bouncier and more beautiful. Beautiful hair starts with a healthy scalp, so we included agave fructans at the heart of every formula. This new active cosmetics ingredient doubles the scalp's microcirculation* so hair can grow in stronger and more beautiful.
Proven effectiveness: Leaves hair bouncier than with water rinse
Our Commitment:
- More than 99% ingredients from natural origin
- Dermatologically tested formula Silicone-free Recyclable bottle made of recycled plastic. Organically grown agave
*In vitro tests
How To Use
Apply on hair before final water rinse. Rinse. In case of contact with eyes, rinse thoroughly.
YVES ROCHER
Yves Rocher is a worldwide cosmetics and beauty brand, founded in 1959 by the French entrepreneur Yves Rocher in La Gacilly. Yves Rocher invented a new form of beauty, with the highest respect for women and nature. It is the only global cosmetic brand to control the entire life cycle of its products: from the plant to the skin of its 30 million clients. This specificity allows Yves Rocher brand to lower enviromental impact and offer every woman quality products at an accessible price.
Semua Ulasan
Tergantung kondisi rambut

Aku tuh bingung ya, sama produk ini. Dalam keadaan rambut aku yg biasa aja, rasanya it gave no effect gitu. Trs pas rambut aku kering banget kek ijuk, aku pake produk ini beserta condi ofc, ngaruh bangeeeet. kek kl tambahan condi doang, jadi berminyak bgt tp kl sm produk ini, ga seberminyak itu. wanginya enak, green gitu

Serum rambut

Serum rambut ini membuat kulit kepala sehat, sehingga rambut jd terlihat indah, kuat, ga gampang rontok dan halus. Serum rambut ini jg wanginya enak