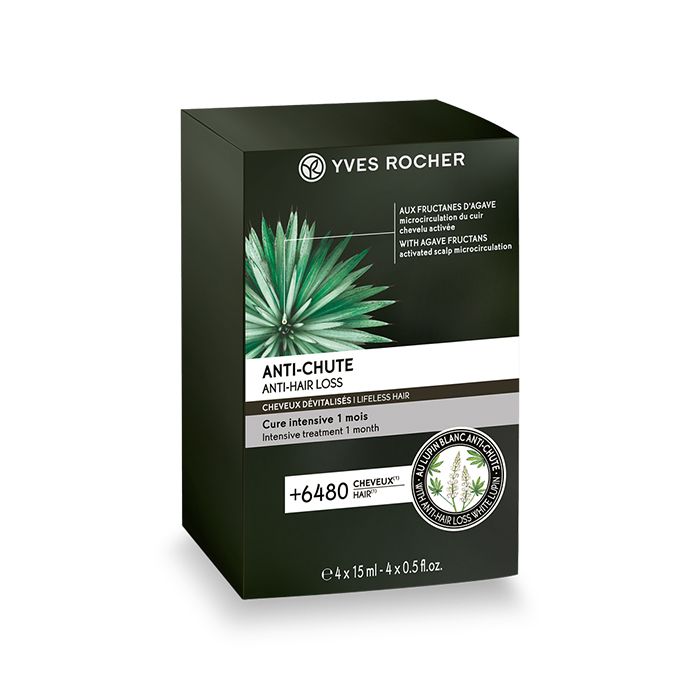 This White Lupin intensive treatment:
1) Redensifies hair*
2) Strengthens hair**
3) Revitalizes the hair shaft
Since beautiful hair starts with a healthy scalp, we integrated Agave fructans at the heart of every formula. This new cosmetics extract activates microcirculation*, in combination with a scalp massage, allowing hair to grow stronger and more beautiful.
Proven effectiveness: 80% of volunteers find that this routine slows down hair loss and that it is less significant.**
Its +: Its practical and graduated vials that provide the right amount for each application.
Our Commitments:
• More than 99% ingredients from natural origin
• Dermatologically tested formula
• Silicone-free formula
• Recyclable vials made from 100% recycled plastic (except additive)
• Recyclable cardboard from sustainably managed forests
• Organically-grown Agave
*Instrumental test of density routine during 3 months of the Shampoo + Conditioner + Treatment.
**Satisfaction test of density routine during 3 months of the Shampoo + Conditioner + Treatment carried out on 20 volunteers with chronic alopecia.
***In vitro tests.
How To Use
Apply Intensive Treatment to the roots of dry or damp hair every 2 days for 1 month. Allow it to absorb by gently massaging the scalp. Do not rinse. To optimize its effectiveness, repeat the treatment 2 or 3 times a year. External use only.
YVES ROCHER
Yves Rocher is a worldwide cosmetics and beauty brand, founded in 1959 by the French entrepreneur Yves Rocher in La Gacilly. Yves Rocher invented a new form of beauty, with the highest respect for women and nature. It is the only global cosmetic brand to control the entire life cycle of its products: from the plant to the skin of its 30 million clients. This specificity allows Yves Rocher brand to lower enviromental impact and offer every woman quality products at an accessible price.