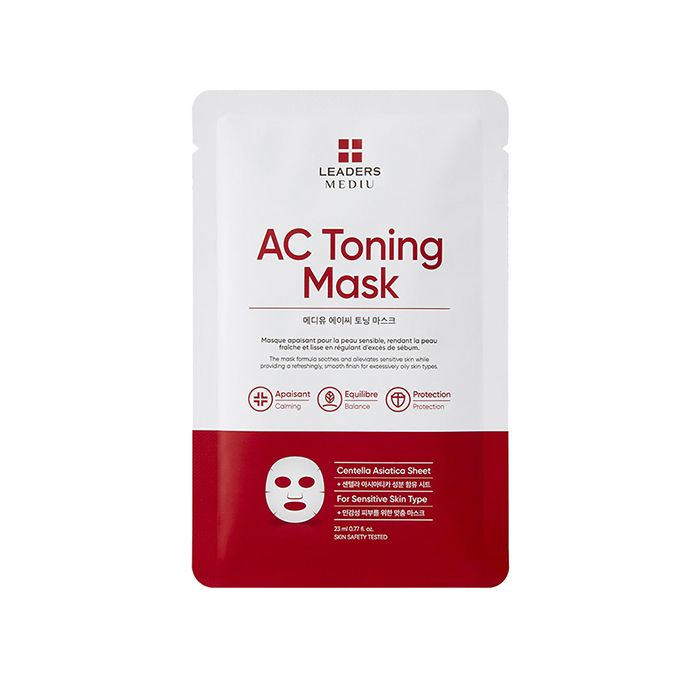 Leaders Mediu AC Toning Mask 23 ml
LEADERS
Mask makes the skin feel refreshed and smooth by controlling excessive sebum secretion and soothes sensitive skin with the ingredient of whole Centella Asiatica extract obtained from roots, flowers, leaves and stems of the plant
* Resolve skin problems with one mask sheet in highly concentrated brown color and a refreshing feel!!
With one mask sheet, resolve various acne skin symptoms such as sebum secretion imbalance, inflammation, redness, sensitivity, insufficient moisture, hyper-keratinization and skin irritation
Contains the patented substance SEPICONTROL A5: Revitalize the skin's immune function, adjust keratinization, control inflammation and sebum secretion
Contains the patented substance PIXALIA® : Provides an anti-inflammation effect/ excessive sebum control/ clean pore care
* Contains whole Centella Asiatica plant
Centella Asiatica, also called "tiger grass," is named as such after discovering that wounded tigers heal their wounds by rolling on the grass. The mask contains active substances obtained from whole Centella Asiatica (Centella Asiatica root extract : 0.132% Centella Asiatica flower/leaf/stem extract: 0.132% Centella Asiatica extract : 0.12%)
* Centella Asiatica sheet
The sheet is made of natural cellulose fabric and contains Centella Asiatica that provides an excellent soothing effect to sensitive skin
* 10 -free system
6 types of Parabens, Phenoxyethanol, triethanolamine, mineral oil, Chlorphenesin
* Skin safety tests completed
Centella Asiatica root, flower, leaf and stem
How To Use
After washing the face, tidy up the skin texture with toner. Take out the mask, unfold and attach the sheet on the face while aligning it with the shape of the face. Rest for 10-20 minutes and then remove the mask. Gently pat the face to promote the absorption of the remaining essence into the skin.
LEADERS
Leaders Cosmetics is a professional cosmeceutical company with over 10 years of experience in the global skin care industry. Leaders is the #1 seller of sheet masks in the world, founded by skilled dermatologists from Seoul National University in South Korea. Their aim is to help women and men restore their self-confidence through beautiful, glowing and healthy skin.
Related Products