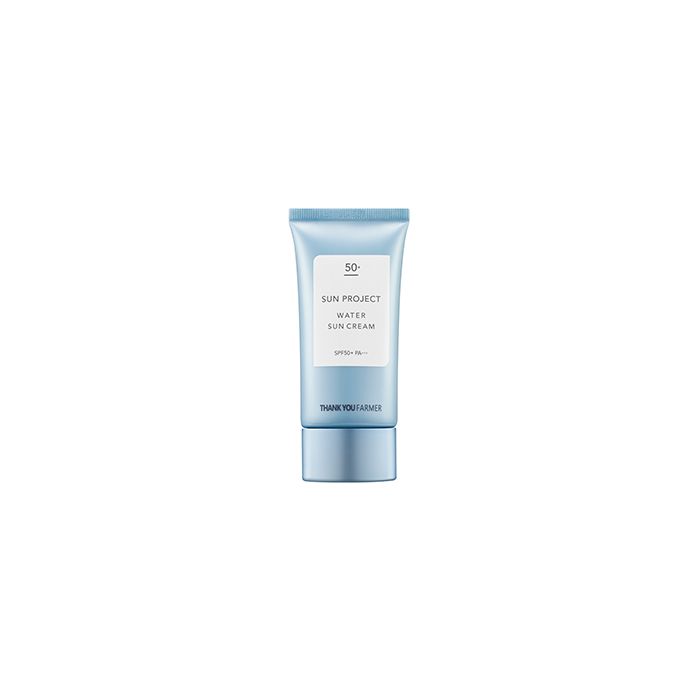 Fanatical about sun protection, South Korean women know a thing or two about sunscreen. World leaders when it comes to innovation, where SoKo leads, the rest of the world swiftly follows – which is why we're so excited to add Thank You Farmer's featherweight sun filters to our global Hall of Fame – providing consistent, invisible protection from the damaging effects of UV rays. 
Suitable for normal / dry skin.
A beautiful moisturiser-meets-sunscreen, Thank You Farmer's Sun Project Water Sun Cream SPF 50+ has an ultra-light texture that diffuses beautifully – infusing skin with precious water (thanks to high levels of hyaluronic acid), while deflecting DNA-damaging rays. Plumping and thirst-quenching, this grants a natural, dewy finish (with no chalky cast), while the inclusion of mistletoe extract helps stimulate cellular turnover – encouraging repair and renewal processes, to minimise the damage caused through everyday exposure to the sun and oxidative stress.
Bamboo water dan Asiatic pennyworth extract. Formula ini bebas of mineral oil, paraben, Benzophenone, artificial pigment dan Chlorphenesin.
How To Use
Aplikasikan pada wajah secara merata di permukaan wajah dan leher sebagai langkah terakhir Anda dari rutinitas Anda. Aplikasikan kembali sesuai kebutuhan
THANK YOU FARMER
Thank You Farmer believes in creating products that focus on pure and honest ingredients. Rooted in the mentality of a farmer, the brand refuses to take shortcuts with nature or skin care, and instead uses real, hard-working ingredients to help strengthen skin over time. Our goal is to achieve balance for healthy skin slowly and naturally without burdening the skin. We promise you the true beauty that will shines over time.
Kamu Mungkin Juga Suka
Semua Ulasan
Its such a good product

Its so perfect as a sunscreen :D

Great sunscreen!!

Pertama nyoba karna tertarik bgt sama nama brand nya..
Trus ku coba beli, muka ku tipe yg gampang panas kalo pake skincare (mungkin agak sensitif ya) tapi pas pake suncreen ini, nyessss adem walaupun ga masuk kulkas, oiya efeknya ngk oily juga.. nice

Sunscreen yang ringan.

Sesuai namanya water sun cream,ini gak berat samasekali. Warnanya putih butek,gaada whitecast tentunya. Ringan dan gak gampang luntur. Finisnya juga ringan,kaya abis pke essence. Nothing comparation deh.