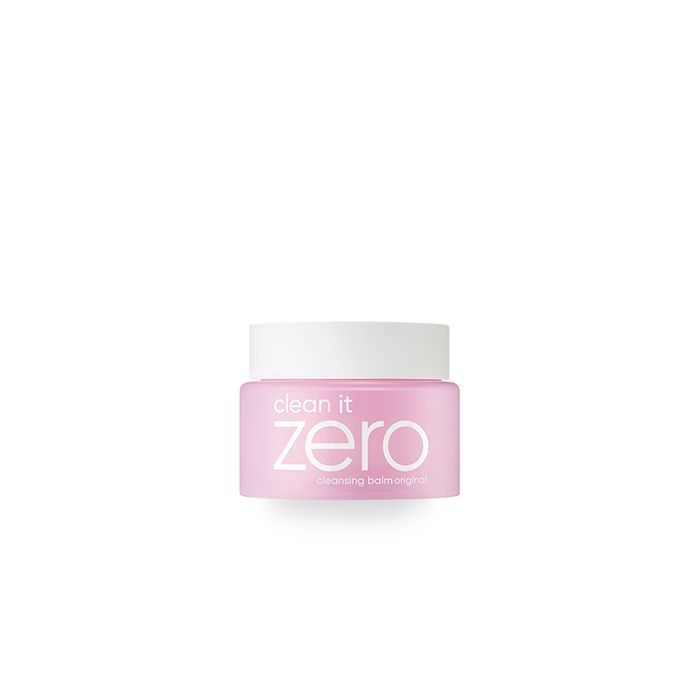 Banila Co Clean It Zero Cleansing Balm Original
BANILA CO
All in one Cleansing Balm that gives mild cleansing ingredient removes skin impurities and erases even the heaviest makeup.
Clean it Zero Cleansing Balm Original is a hypoallergenic cleanser that transforms from sherbet-like texture into smooth oil when applied onto your skin. Developed to remove even waterproof makeup and all of your skin!s impurities in just one step. Zero Balance Technology deeply cleanses and gently exfoliates without stripping the skin, leaving it hydrated and fresh.
How To Use
Use spatula included to scoop balm. Gently massage in circular motions onto dry skin using your fingertips. Rinse well with lukewarm water or wipe off with face cloth or tissue. Pat skin dry.
BANILA CO
Banila Co was founded in 2006 to help makeup lovers live all their beauty dreams to the fullest. They believe that gorgeous skin is the first step to a flawlessly fierce face, and that people shouldn't have to sacrifice their complexion for their makeup obsession. So as leaders in K-beauty, they're constantly setting beauty trends through advanced formulas that are simple to use, and makeup designed to work synergistically with everyone's whole skincare routine.
All Reviews
Cleansing Balm nyaman buat massage

Sebelumnya, saya pake cleansing oil sebagai first cleanser tapi terus pengen explore jenis lain, akhirnya jatuh ke cleansing balm dan nyobain salah satu varian Banila Co yaitu yang pink original ini.
Gampang di-emulsify, enggak yang oily banget, engga ada wangi (atau mungkin samar-samar dan gak terdeteksi sama hidung saya hehe), gak bikin perih di mata (penting!).
Daya angkat kotorannya cukup oke, walaupun saya biasanya emang jarang pake heavy make up, paling mentok itu tinted moisturizer sama bedak.
Enak buat pijet-pijet wajah sekalian relaksasi di malam hari.

cleansing balm original

Udah habis 2 jar! Suka banget, harga buatku worth untuk kualitasnya. Emang lokal banyak yang bikin lebih murah tapi Clean Zero ini worth to try banget. Packaging lucu, wanginya enaaak, ga perih di mata, bisa bersihin muka dengan baik walaupun pake makeup. Cuman buat maskara aku selalu bersihin dulu pakai tisu basah, soalnya kalau engga nanti bawah mataku jadi item2 hehe. Yang paling aku suka itu experience pas si produknya melting di wajah, enak bangeeet, sekalian massage wajah hihi.



legend bgt

dari zaman masih beli di jastip-jastip,udh suka bgt karena enak bgt buat ngelunturin sisa makeup. gak perih di mata pula,dan waktu di bilas pake air gak gengges gitu. suka bgt laah~

does its job

salah satu cleansing balm populer, bagus buat angkat makeup, tapi sayangnya di aku malah bikin kulit agak kering/ketarik. memang belum nemu cleansing balm yang bener2 cocok sih

CLEANSING BALM

As a make up enthusiast, I would like to recommend this product for u guys that have a problem to removing ur make up. The texture is pretty soft and gentle (don't have to worry if you have a sensititive skin type). Pretty impressive to try!
Related Products