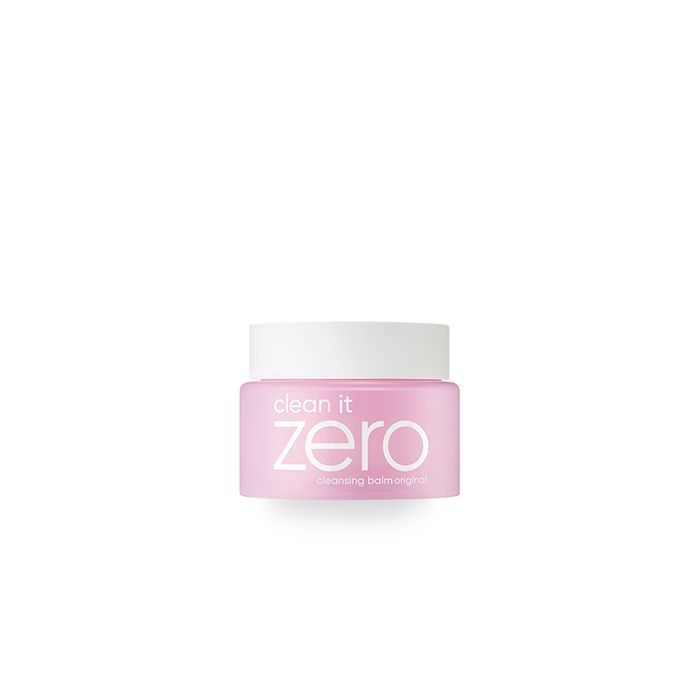 Banila Co Clean It Zero Cleansing Balm Original
BANILA CO
All in one Cleansing Balm that gives mild cleansing ingredient removes skin impurities and erases even the heaviest makeup.
Clean it Zero Cleansing Balm Original is a hypoallergenic cleanser that transforms from sherbet-like texture into smooth oil when applied onto your skin. Developed to remove even waterproof makeup and all of your skin!s impurities in just one step. Zero Balance Technology deeply cleanses and gently exfoliates without stripping the skin, leaving it hydrated and fresh.
How To Use
Use spatula included to scoop balm. Gently massage in circular motions onto dry skin using your fingertips. Rinse well with lukewarm water or wipe off with face cloth or tissue. Pat skin dry.
BANILA CO
Banila Co was founded in 2006 to help makeup lovers live all their beauty dreams to the fullest. They believe that gorgeous skin is the first step to a flawlessly fierce face, and that people shouldn't have to sacrifice their complexion for their makeup obsession. So as leaders in K-beauty, they're constantly setting beauty trends through advanced formulas that are simple to use, and makeup designed to work synergistically with everyone's whole skincare routine.
All Reviews
Terluv

Udah lama denger brand ini dan jagoanya si balm tapi masih belum tertarik karna aga ribet ya pake balm mending cleansing oil tinggal pencet , tapi pas udh di coba yaampun sesuka itu , pake dikit aja udh bisa buat semua muka , poin paling pentingnya sih udah pake ini muka ga kering sama sekali malah nyaman aja dan angkat makeupnya juara sih , bersih, beli pas 12.12 udh diskon dpt tambahan diskon jg . Ahhh senangnya belanja di cnf online , trimakasih

The best cleansing balm ever!

Meskipun awalnya terkesan ribet, pakai cleansing balm Banila Co ini bener-bener membantu dan bahkan mempercepat proses pembersihan kulitku yang setiap hari pakai full makeup. Daripada pakai micellar water yang harus digosok-gosok pakai kapas dan bikin wajah iritasi, kalo pakai cleansing balm ini teksturnya lembut. Proses pembersihannya pun gampang tinggal emulsify dikit pakai air abis itu makeup semua gone! Downside-nya kalau kena mata emang kadang bikin perih dan mata jadi burem, tapi gak terlalu mengganggu sih soalnya kalo udah dibilas ya balik lagi matanya bersih. Abis dibilas wajah juga ga keset. Repurchase? Yaiyalahhhh, ini udah nyetok 2 pcs di rumah dari sale 11.11 kemarin.