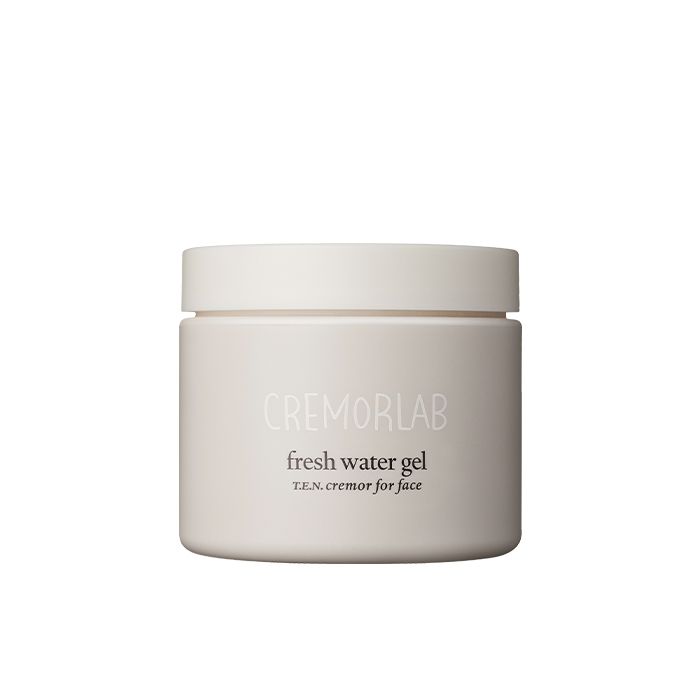 Cremorlab T.E.N Fresh Water Gel 100 ml
CREMORLAB
Moisturizes and soothes the skin, and also promote the skin's suppleness. Light-weight water gel cream delivers droplets of moisture as soon as it is applied on the skin and keeps the skin moisturized during the day.
Formula: Moist gel containing mineral dropletsDroplets of moisture soak into the skin as soon as the gel is applied to form a protective coating layer of moisture so that the moist feeling remains longer.
Fragrance: Bulgarian rose type called a noble of aroma.
Formulated without: Paraben, Benzophenone, Mineral Oil, artificial Color 63% increase in moisture (Clinical Result)
Patented method to form and manufacture marine hot spring water to moisturize and calm the skin
T.E.N.Water: 10-mineral crystals:: energi pada kulit:: oksigenasi:: regenerasi kulit Lavender water: mengurangi iritasi dan menghidrasi Hamamelis Virginiana (Witch Hazel) Water: Menghidrasi:: Melembapkan Aloe Barbadensis Leaf Extract: Menenangkan:: Menghidrasi Chamomilla Recutita (Matricaria) Flower Extract: Menenangkan:: Tekstur kulit halus
How To Use
Apply over the face and neck every morning and night after using toner and essence.
CREMORLAB
Catholic Medical Center joined to create a professional research development team, the Hydro Therapy Research Institute to launch Cremorlab, the cosmetic brand that delivers Geumjin hot spring water as an ideal ingredient for skin. Cremorlab, which combines Cremor with Lab is a natural healing cosmeceutical developed through extensive R&D. Their philosophy is to combine natural energy with research-based scientific development.
Kamu Mungkin Juga Suka
Quick View

THANK YOU FARMER

Thank You Farmer Miracle Age Repair Cream 50 ml

Quick View

THANK YOU FARMER

THANK YOU FARMER True Water Deep Cream
Semua Ulasan
Ada harga ada barang

Emamg kalo kulitnya berminyak atau kombinasi tuh udah deh nurut aja pake moisturizer yang water gel. Karena ini enak banget. Pake dikit aja udah nampol banget hasilnya. Velvety glowing finish nya. Wanginya calming dan fresh

Best Moisturizer for Oily Skin

I have oily acne-prone skin. Most of the moisturizers will break me out because they're too tacky. This one is different, it has a light gel texture and give enough moisture to my skin. A little goes a long way, so this product could last for more than 6month (in my experience). I'm on my second jar now! :)

Water based moisturizer

I have oily skin and its hard to find the perfect moisturizer. This is a lightweight water gel moisturizer. Feels like jiggly pudding when scooping out the product. Give me a good amount of hydration but didn't do anything to my pores.

A bit too light for dry skin and din't help much if you have flaky skin. Might have to layer it a couple times