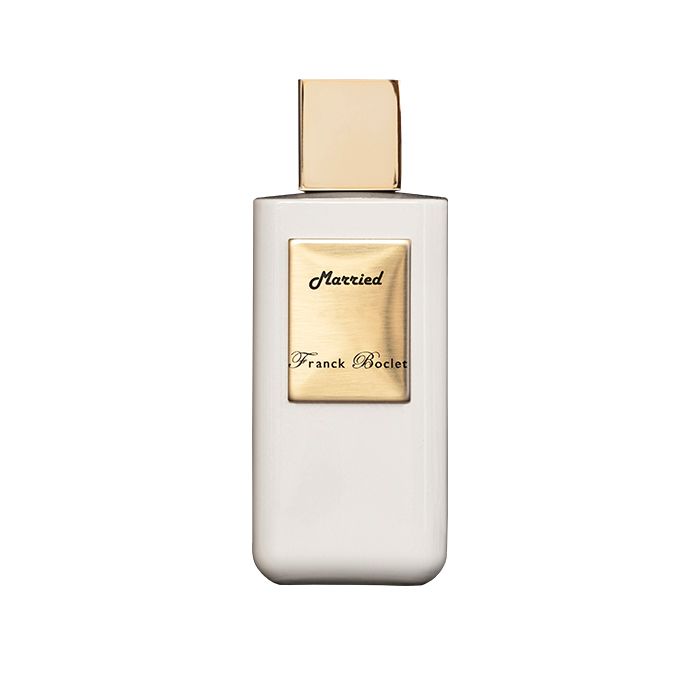 is the fragrance for woman in love. The fragrance starts with a sparkling sensation with bergamot, lemon and orange. In the heart, a wedding bouquet of violet, lilac, rose and orange blossom and the freshness green note of galbanum. Finally, oriental and woody notes of cedar, sandalwood, leather, vanilla and amber make the fragrance addictive.
Top notes: bergamot, lemon and orange
Middle notes: violet, lilac, rose and orange blossom, galbanum
Base notes: cedar, sandalwood, leather, vanilla and amber
How To Use
Spray on the body or clothing. Avoid contact with eyes or irritated skin. If occurs, wash with water to clean. Keep away from fire or flame source.
FRANCK BOCLET
Franck Boclet is the only artistic director of fashion to create niche perfumes. "I wanted to create perfumes with a strong personality, an exception, giving emotion and sensuality in harmony with our mood and our soul. Our collections allow us to offer a palette of different fragrances so that everyone can showcase their personality.". Present in more than 500 international outlets, the brand proposes two lines of exceptional perfumes: fragrance collection, with a range of 24 perfumes (Eau de perfume) different to 20% concentration, and the line rock & riot (perfume extract) with 2 Collections Black Edition and the new ivory edition collection.
All Reviews
Very Nice and Classic

This is a "classic" feminine fragrance. Floral-powdery with a sandal-vanilla base. Reminds me of the smell of expensive make-up from the past decades (expensive make-up nowadays smells a bit different imho). There is this traditional powdery safe quality to it, it speaks of elegance and well-cut cocktail dresses, not of cutting-edge modern feminism. It is charming in its own right, there is a time and place for it.

Related Products