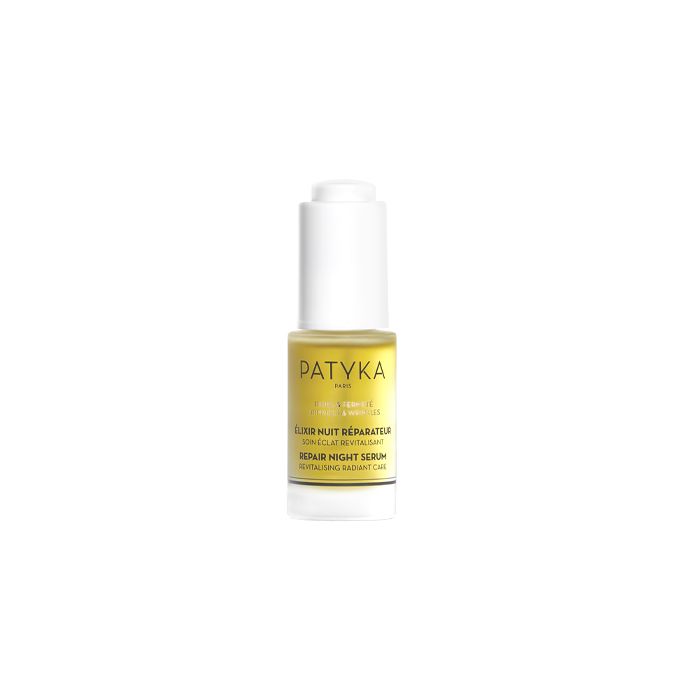 Patyka Repair Night Serum 15 ml
PATYKA
100 % natural, this serum regenerates the epidermis, repairs tissues and gives a radiant complexion.
An intelligent complex of 16 essential and plant oils, this anti-ageing chronobiological skin care product, which has restructuring and anti-oxidant properties, is concentrated in ultra targeted active ingredients dedicated to skin vitality and radiance. A single bead has the power to revitalise, balance, restructure, and reactivate radiant harmony.
Rose Hip Oil: Rich in omega 3 and 6, as well as Red Mandarin, Bergamot, Median Lemon, and Lime Oil, with their excellent concentration of vitamin C, awaken the skin. It timulates skin cells renewal and revitalises the skin, stimulating the production of collagen and elastin.The Clary Sage: Increases blood microcirculation. It restores the vitality and radiance of a tired or dull skin.Neroli, Cistus Ladanifer: Rich in omega 3 and 6, and Himalayas Jatamansi revitalise, restructure, stimulate the skin cells, and fight against the visible effects of ageing.Wheat Germ Oil: A powerful anti-radical and excellent anti-oxidant, prevents the formation of fine lines and protects against the harmful effects of pollution, external aggressions and free radicals. Vitamin A and Beta-Carotene present in the Wheat Germ Oil provide a healthy glow.
How To Use
Every Night , apply a bead of Repair Night Serum on face, neck, and neckline, avoiding the eye contour area
PATYKA
Paris, 1922. The France of the Roaring Twenties is experiencing an unprecedented cultural and artistic development. Paris sees the emergence of the first creations of perfumes and cosmetics. In this creative effervescence, a Parisian apothecary of genius formulates an elixir with essential and vegetable oils which quickly becomes the beauty secret of Parisian women.
All Reviews
best serum ever!

pas bangun tidur wajah beda 180°. lebih hidrasi, kemerahan diwajah berkurang padahal kemerahan wajah aku menahun dan sangat susah untuk berkurang. kata dokter estetika produk tidak akan menolong cuman bisa hilang dengan treatment but this serum really work! good job, thanks patyka❤️