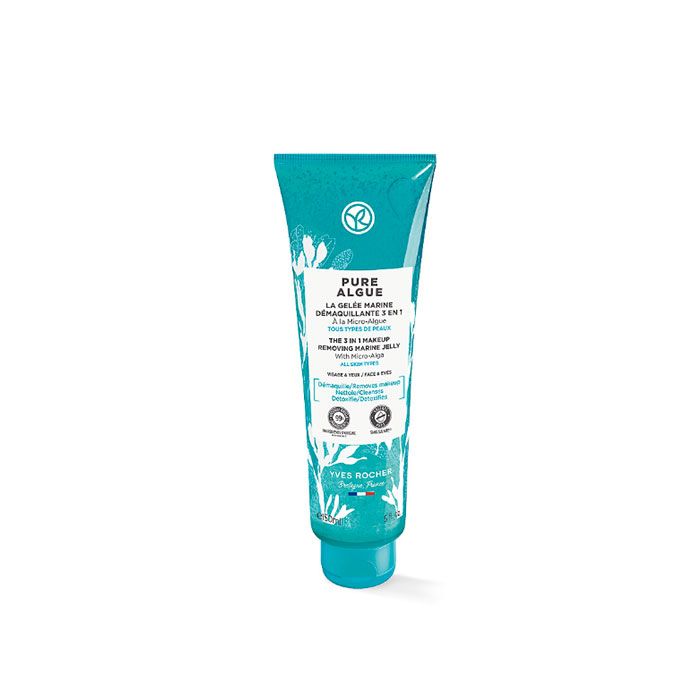 Yves Rocher Pure Algue The 3 In 1 Makeup Removing Marine Jelly - Face & Eyes 150 ml
YVES ROCHER
This cleansing jelly is formulated with Tetraselmis Micro-Alga with oxygenating properties*.
Removes makeup, cleanses and detoxifies the face and eyes in a single step.
The effectiveness of cleansing oil with the freshness of cleansing gel.
Intended for all skin types.
Its +: skin that is free of makeup, cleansed and radiant! Effective even on waterproof makeup. Texture: its ultra-fresh jelly texture is filled with micro-droplets of water that transform into a light foam, like sea foam. Results: - 91%** of those surveyed found that their skin was perfectly cleansed - 93%** of those surveyed found that their skin was invigorated - 96%** of those surveyed found that their skin was clearer and healthier *In vitro test on Tetraselmis Micro-Alga extract. **Satisfaction study carried out over 15 days on 69 women and 33 men, applied twice a day.
AQUA/WATER/EAUGLYCERINPROPYLENE GLYCOL.PENTYLENE GLYCOLPOLYGLYCERYL-6 CAPRYLATEPOLYGLYCERYL-4 CAPRATEDECYL GLUCOSIDECENTAUREA CYANUS FLOWER WATERMANNANHYDROXYACETOPHENONESODIUM CARBOXYMETHYL STARCHGELLAN GUMPARFUM/FRAGRANCE1,2-HEXANEDIOLCAPRYLYL GLYCOLFRUCTOOLIGOSACCHARIDESINULINMARIS AQUA/SEA WATER/EAU DE MERCITRIC ACIDCALCIUM CHLORIDESODIUM BENZOATEPOTASSIUM SORBATETETRASELMIS SUECICA EXTRACT10498v0
Size
150 ML
How To Use
Apply morning and night to lightly moistened face and eyes. Gently massage in and rinse. To complete your beauty routine : 1) Clean your skin with the 3 in 1 Makeup Removing Marine Jelly - Pure Algue 2) Use the 2 in 1 Makeup Removing Micellar Water - Pure Algue in order to prepare your skin for your skin care routine 3) Apply your daily skin care: your serum and/or your cream 4) Apply an eye care among our eye contour product line
YVES ROCHER
Yves Rocher is a worldwide cosmetics and beauty brand, founded in 1959 by the French entrepreneur Yves Rocher in La Gacilly. Yves Rocher invented a new form of beauty, with the highest respect for women and nature. It is the only global cosmetic brand to control the entire life cycle of its products: from the plant to the skin of its 30 million clients. This specificity allows Yves Rocher brand to lower enviromental impact and offer every woman quality products at an accessible price.
Kamu Mungkin Juga Suka