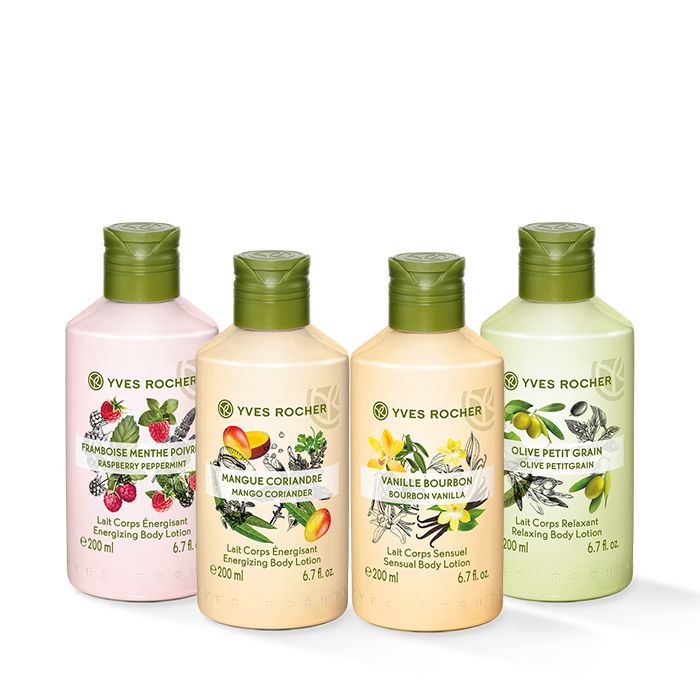 Rp 139.000

-

Rp 229.000
-25%
Leaves skin moisturized and delicately scented.
Lavandin Blackberry:
To relax the body and mind, Yves Rocher has chosen to combine Lavandin with Blackberry. The essential oil of Lavendin is obtained by distillation of the flowering stems harvested in the summer, using steam. The essential oil of Lavendin is well-known for encouraging relaxation. Its flowery, fine and powdery notes, combined with the round and generous gentleness of Blackberry, procure a feeling of well-being and intense relaxation.

Mango Coriander:
It is at the heart of this spherical and tasty white fruit that all the richness of Coriander essential oil is found. Its floral, spicy scent and sharp and invigorating freshness, softened by the colorful and vibrant notes of Mango, give you a boost of vitality that stimulates your senses. Beauty Promise The skin is moisturized and delicately perfumed.

Olive Petit Grain:
To provide you with a relaxing and calm moment, Yves Rocher has chosen the Olive, for its sunny disposition, and essential oil of Petitgrain, originating in the Mediterranean Basin. Obtained by the distillation of the leaves and twigs of the bitter orange, the essential oil of Petit Grain (in the perfume) is traditionally used for its renowned relaxing properties. Its pleasant, floral fragrance, both suave and invigorating, helps you to empty your mind for a calm and peaceful moment. Beauty Promise The skin is moisturized and delicately perfumed.

Rapsberry Peppermint:
Yves Rocher has chosen Peppermint essence for its aromatic notes that bring a burst of intense freshness. A real Energy and vitality boost, it helps us recover vivacity. Its icy freshness, subtly combine with the tangy freshness of Raspberry, gives a sparkling cocktail of energy.

Vanilla Bourbon:
Yves Rocher has chosen a Bourbon Vanilla that is grown in the tradition of Bourbon Island. As a member of the orchid family, its fragrance leaves a veil of satiny sensuality on the skin, like an intoxicating caress. The scent opens with a luminous note then develops its suave and enveloping personality.
How To Use
Apply evenly on your entire body after a bath or when you need it
YVES ROCHER
Yves Rocher is a worldwide cosmetics and beauty brand, founded in 1959 by the French entrepreneur Yves Rocher in La Gacilly. Yves Rocher invented a new form of beauty, with the highest respect for women and nature. It is the only global cosmetic brand to control the entire life cycle of its products: from the plant to the skin of its 30 million clients. This specificity allows Yves Rocher brand to lower enviromental impact and offer every woman quality products at an accessible price.
Semua Ulasan
great scent

Have tried vanilla, mango coriander, and mint raspberry. They all have great scent like 5 out of 5, but in terms of moist effect it's 4 out of 5 for my dry skin. Again, will only repurchase when they are on sale.

Lotion yg hangan ga bikin lengket

Aku beli semua produk yves rocher ga kelewatan body lotion ini . Aku beli yang vanille ini suka bangettttt manis manis gimanaa gituu. Aku suka produk ini karena dri bahan alamii . Aku udah habis 3 botol dan pasti aku langsung beli kalo mau abis. Aku stok juga di mobil

Saya suka vanilla

My all time favorite. Wanginya manis, saya sangat suka.

bourbon vanilla

gara gara beli shower gelnya aku penasaran sama lotion nya juga. pertama kali aku beli yang varian bourbon vanilla. aku suka banget aroma vanilla nya karena sangat hangat dan sensual. lotion nya melembapkan kulit dengan bantuan shea butter. satu hal lagi yang membuat aku beli ini karena dari bahan alami. free mineral oil dan free paraben. oh iyaa lotion ini cocok untuk semua jenis kulit. aku langsung beli 3 buat gift.

Hair Color

:

Other Colors

Non greasy n easily absorbs lotion

Gara2 pake body wash-nya, jadi kepo nyobain ini juga hehe racun kann. Tapi beneran dipake nyaman banget, ga lengket, cepet nyerep di kulit. So far baru coba yg Olive dan belum mau ganti hehehe baunya lembut di idung gue