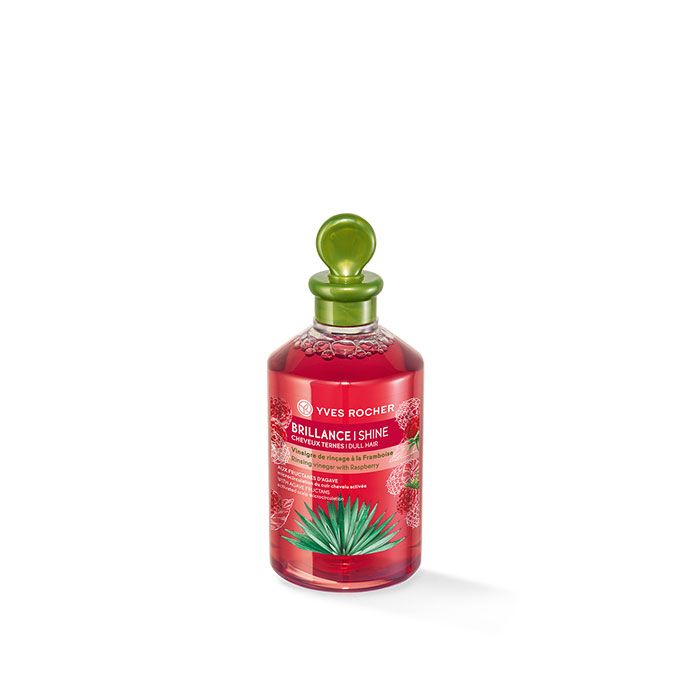 The perfect combination of BRILLANCE SHINE
The new formula included agave fructans, this new powerful active ingredient doubles the scalp's microcirculation*, so hair gets all its strength, right in the scalp itself.
A perfectly nourished bulb and the hair can grow in stronger and more beautiful.
This raspberry rinsing vinegar counteracts the factors that dull your hair's radiance resulting in hair that's naturally shiny.
*In vitro tests
– 99% of ingredients from natural origin
– 0% Silicone, 0% Paraben
– Formula tested under dermatological control
– Suitable for all types of hair, especially dull hair
– Recyclable bottle containing recycled plastic
How To Use
Apply 2-3 times a week, after your shampoo and conditioner. Spread over the hair, including the scalp, before the last rinse. Massage for 2-3 minutes. then rinse with water. Avoid using within 1-2 weeks after dyeing
YVES ROCHER
Yves Rocher is a worldwide cosmetics and beauty brand, founded in 1959 by the French entrepreneur Yves Rocher in La Gacilly. Yves Rocher invented a new form of beauty, with the highest respect for women and nature. It is the only global cosmetic brand to control the entire life cycle of its products: from the plant to the skin of its 30 million clients. This specificity allows Yves Rocher brand to lower enviromental impact and offer every woman quality products at an accessible price.
All Reviews
Aku suka sama wanginyaa

Rambut aku lepekkk bangettt apalagi kalo habis kena sinar matahari. Aku pake ini karna riview yg baguss bikin rambut shiny. Cocok dirambut akuu yg lepek jadi bersinar

strong

aku beli ini karena rekomendasi dari salah satu youtuber yang riview produk ini yang katanya bisa membersihkan sisa sisa shampo, conditioner, masker, dan rambut jadi shiny. setelah aku pake ternyata cocok di kulit kepala aku. rambut aku agak gampang dan cepet lepek kalo ga keramas. teksturnya cair wanginya strong enak. didiemin 2 menit aja cukup dan berasa perih sedikit. tapi setelah dibilas rambut aku berasa ringan. tapi shiny nya ga terlalu keliatan. tapi produk ini sangat membantu rambut aku yang lepek.

The hype is real

Aku cobain ini karena banyak yg review dan bilang ini baguuus banget. Dan ternyata memang sebagus ituuu! Setiap kali abis pakai ini pasti rambutku lembut banget. Wanginya jg enak sekali. Botol yg 400 ml will last you forever. Definitely grab and try this if you haven't. And stock up when it is on sale

Smells good

Let me start with, this product smells amazingly fresh. Saat pertama kali sniff, enaaa. Then, I tried onto my hair. Enakeun banget after effect setelah shampoo-ing. Rambut serasa lebih halus dan ringan. But kulit kepala kek oily gt. Cocok-cocokan sih..

Best ampoule ever

Buat kalian yg suka banget pake hairdyer yg di mana bakal bikin rambut kalian kaku kayak sapu apalagi ada bau- gosong gitu. Gua saranin lu harus coba pake ampoule ini sih.