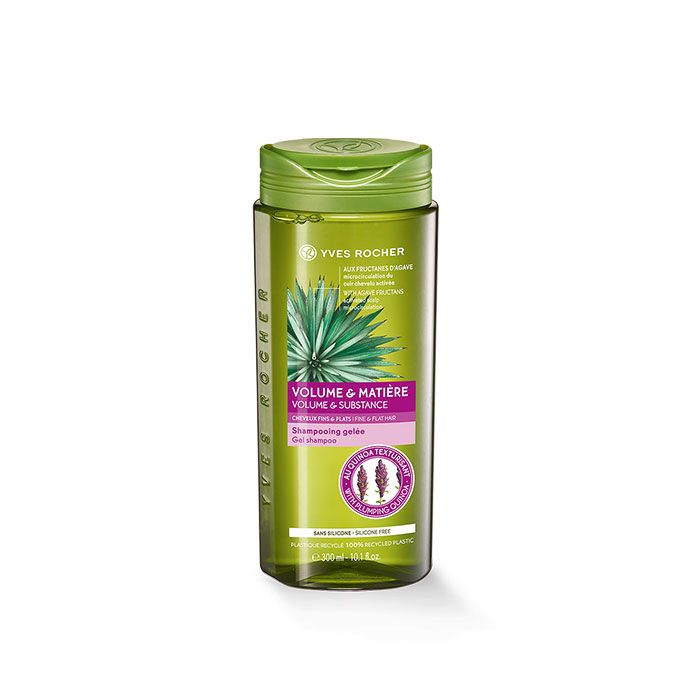 Cleanses and volumizes the hair
This shampoo with texturizing Quinoa, washes and increases the volume of hair thanks to a dual action:
1: Adds substance to the hair fiber to recreate thickness
2: Boosts the volume of hair to enhance it from the roots.
Since beautiful hair starts with a healthy scalp, we integrated Agave fructans at the heart of every formula. This new cosmetic extract activates microcirculation*, in combination with a scalp massage, allowing hair to grow stronger and more beautiful.
Its +: A light, silicone-free gel texture that washes hair without weighing it down and a flat capsule which makes it easier to use the product until the last drop.
- Contains more than 96% ingredients from natural origin
- Easily biodegradable, silicone-free formula
- 0%Paraben, 100% Vegan
- Botanical washesing base
- Organically-grown Agave
- Recyclable bottle made 100% from recycled plastic (except additive)
- Dermatologically tested formula
How To Use
Apply to previously wet hair, massage into the scalp. Rinse thoroughly.
YVES ROCHER
Yves Rocher is a worldwide cosmetics and beauty brand, founded in 1959 by the French entrepreneur Yves Rocher in La Gacilly. Yves Rocher invented a new form of beauty, with the highest respect for women and nature. It is the only global cosmetic brand to control the entire life cycle of its products: from the plant to the skin of its 30 million clients. This specificity allows Yves Rocher brand to lower enviromental impact and offer every woman quality products at an accessible price.
Semua Ulasan
Bye bye rambut tipis .

Tertarik mencoba karena rambut aku yang tipis , ternyata hasilnya rambut terlihat mengembang / bervolume , dan seharian ga lepek .

Menurut aku , rangkaian perawatan rambut yves rocher sangat unik2 dan sesuai dengan kebutuhan rambut . Jadi selalu ingin mencoba rangkaian perawatan rambut lainnya , dari pada nyalon tiap minggu heheh

rambut jadi lebih tebal

aku beli shampoo ini karena rambut aku tipis. setelah aku pake shampoo ini efeknya rambut jadi lebih tebal. aku sarankan pakenya dicampur dengan air agar tidak boros.