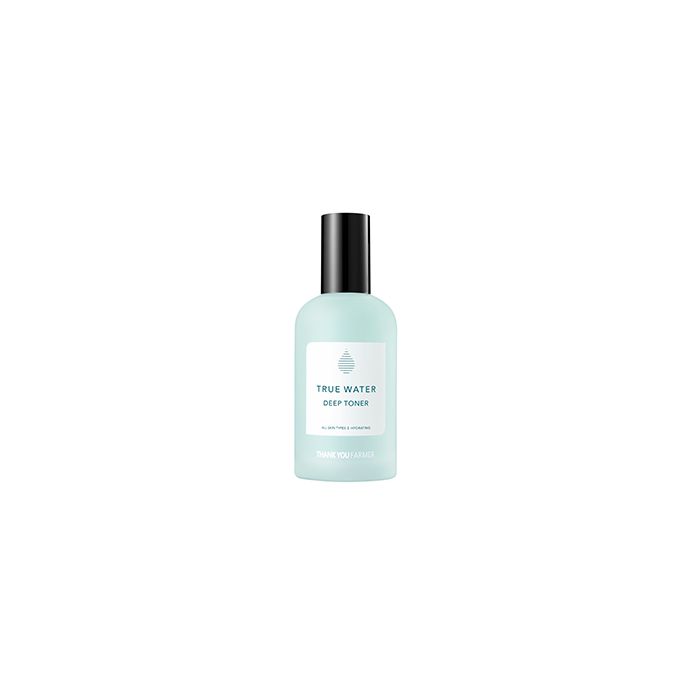 Quenching thirsty skin like a glass of fresh water, this serum-like toner glides onto skin to smooth, cool and hydrate without a hint of stickiness. Great for all skin types – though especially those lacking moisture and vitality – it stars hydrating sodium hyaluronate, soothing aloe vera and moisture balancing niacinamide to leave skin plump, bright and dreamily dewy.
Uniting farm-fresh ingredients with South Korean innovation, Thank You Farmer's True Water Deep Toner is a sublime way to cool, hydrate and brighten skin after cleansing. Like a quenching drink for thirsty skin, the serum-like toner is enriched with sodium hyaluronate, which imparts and maintains moisture and plumps away fine lines. The liquid gel-like texture instantly calms and comforts complexions, without leaving behind a hint of sticky residue, controlling sebum with niacinamide and soothing aloe vera. With a convenient pump, the toner can be applied with a cotton pad after cleansing, leaving a bright, plump and dewy effect and improving the absorption of skin care that follows.
Phyto mucin, hyaluronic acid, moisturizing vitamin inositol, aloe vera, peony extract and niacinamide. The formula is free of mineral oil, paraben, Benzophenone, artificial pigment and Chlorphenesin.
How To Use
After cleansing, gently apply an appropriate amount onto face with a cotton pad or dispense onto palm to apply gently over face.
THANK YOU FARMER
Thank You Farmer believes in creating products that focus on pure and honest ingredients. Rooted in the mentality of a farmer, the brand refuses to take shortcuts with nature or skin care, and instead uses real, hard-working ingredients to help strengthen skin over time. Our goal is to achieve balance for healthy skin slowly and naturally without burdening the skin. We promise you the true beauty that will shines over time.
All Reviews
Hydrating toner

This toner like water essence tho. Enak bgt kalo mau csm-an. Tp buat aku ini gabisa di layer yg banyak gitu,krn teksturnya kaya water essence jd ngelembabin nya udh cukup. Kalo banyak-banyak tuh kaya berat gitu hasilnya.
Related Products